One FM giving away RM70k total cash prizes in Knock Knock Money Money Home contest
Posted on Tuesday, March 28th, 2017
---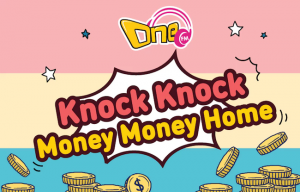 Selangor, 27 March – To thank listeners for their support over almost 8 years, One FM is giving away RM70k total in cash prizes through the Knock Knock Money Money Home contest. For 3 weeks starting 27 March, all you need to do is tune in to One FM, listen for specific songs to hit the airwaves, and be the first caller through to win a RM800 cash prize immediately. If that's not exciting enough, there will be a special bonus hour where lucky callers can state a password to win an additional RM500 – RM2500. The passwords will be revealed on One FM and on their official social media platforms.
One FM head of programming, Jess Chong, says: "One FM will turn 8 soon, and we hope to continue being both companion and entertainer for our audience. It's thanks to our listeners' support and motivation that we continue to grow and improve, so to reward their support One FM's Knock Knock Money Money Home will give out at least RM800 in cash per round."
One FM Morning Kaki announcers Nicholas and Angeline reminded listeners: "If you want to participate in Knock Knock Money Money Home, keep listening to One FM round the clock as we'll be randomly giving out prizes." Happy Hour announcers William and Yin joked, "We know you'll be listening to One FM, especially our Happy Hour. And you know both of us are so friendly and love you all, so we'll definitely let everyone win those prizes easily!"
Over the past year One FM has organised a number of activities great and small, but the one that left the greatest impression is the 'Fix It' segment where announcers hit the streets nationwide to help people in need from different levels of society. Fix It has assisted in solving various difficulties and recruited listeners to participate along with their announcers. This not only lets listeners understand the life and background of people from varying social strata, but also passes on the spirit of happiness through helping others. The station hopes to benefit more people in need in the future. Moving forward, One FM will continue to provide a variety of entertaining news and music to listeners, along with further CSR projects to give back to society and helping those in need.
For more details about Knock Knock Money Money Home, visit the station's official website www.onefm.com.my, follow their official Facebook page and keep listening in!