One FM Morning Kaki New Lineup
Posted on Wednesday, July 19th, 2017
---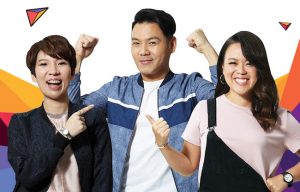 Selangor, 17 Jul – One FM officially announced the introduction of new blood to the Morning Kaki segment, Ding Ding, who will then form an invincible trio with existing announcers Nicholas and Angeline on air from 6.00 am to 10.00 am sharp, Mondays to Fridays.
Morning Kaki's original segments, including Morning Kaki Talk, Morning Kaki Fix It, Good Morning Baby, Hang Gai Gai and Power Bank, will remain unchanged. New segments will include I Rule Movies and What Is This. After going off air, all three announcers will also take part in Facebook Live videos on One FM's official Facebook page with the Clever to Eat segment, where they will try out the same food available at different prices. Before joining One FM, Ding Ding was involved in event planning. Before joining One FM, she had taken
part in a Morning Kaki challenge from Nicholas and Angeline where the feedback and results were positive. Therefore, after a probation period last week, she has officially joined the
Morning Kaki team.
Nicholas says, "Ding Ding is a newcomer which I haven't seen in a long while, and I'm quite nervous and excited about the opportunity to work with her. It's not easy to find a fluent Cantonese speaker like her in the broadcast and I was surprised with her performance. Despite her appearance, her Cantonese sounds just like someone from Hong Kong, so it feels like I'm working with someone from there. She reacts super fast, so now there's a different dynamic between all three of us. I'm very much looking forward to her joining us." Angeline joked, "Ms. Ding, please look after me! I like her cheerful and courageous personality. We have spoken about our future goals, and they all match up! I hope in future to accompany everyone to start a great new day, every day!"
One FM Head of Programming Jess Chong added: "Talent can only be encountered, not searched for. It is difficult to find someone without formal training who has been able to adapt so fast to such challenging work. We hope that Ding Ding will be a responsible team member and able to add more value to our programs and entertain our listeners!"
While Morning Kaki welcomes a new announcer, the other programs remain unchanged.
One FM Program List
| | | |
| --- | --- | --- |
| Broadcast Time | Program Name | Announcers |
| 6.00am – 10.00am | Morning Kaki | Nicholas, Angeline and Ding Ding |
| 10.00am – 4.00pm | 10 – 4 | Kyan and Hana |
| 4.00pm – 8.00pm | Happy Hour | William and Yin |
| 8.00pm – 12.00am | Happy Dedication | Brandon |
In addition, One FM's 'I One To Fly' contest will run from 17 July to 25 August with over RM150,000 worth of cash prizes and travel packages up for grabs. Listeners should stay tuned to the station for the chance to win generous cash prizes and all-inclusive travel packages covering flight tickets and accommodations.*
For more information about One FM's upcoming activities, visit the station's official website www.onefm.com.my, follow their official Facebook page and stay tuned to One FM!
*Terms and Conditions apply.