'Mega Hindi Kool FM' now on air with Andy Hakim
Posted on Monday, July 31st, 2017
---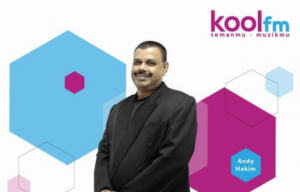 Petaling Jaya, 28 July 2017 – After a year of broadcasting entertaining programs, Kool FM has recently added the 'Mega Hindi Kool FM' segment with Andy Hakim at the helm as announcer. The segment plays evergreen Hindi hits every Saturday for 2 hours from 10 p.m. to 12 midnight, and began airing on 22 July 2017.
Mega Hindi Kool FM is being broadcast to fulfil listeners' desire as well as strengthen the Kool FM brand. Its announcer Andy Hakim was crowned Popular Male Radio Announcer in the 2002 Anugerah Bintang Popular Berita Harian. Andy (real name Muhammad Ishak Ibrahim) is an experienced announcer well-known for his expertise and deep knowledge of Bollywood songs and films. Station management has given him the opportunity to handle the segment to further strengthen Kool FM's programs.
The latest segment has Andy interviewing popular Bollywood actress Kajol, who was specially flown in to the capital in conjunction with the promotion of her latest Tamil movie, Velaiilla Pattadhari 2 (VIP2). For more information, listeners can visit Kool FM's official website www.koolfm.com.my and their official social media pages on Youtube: Kool TV / Instagram & Twitter: @koolfmmy / Facebook: Kool FM / Whatsapp: 017-276 5656.