'Kool Kan Ada' lightens listeners' burdens
Posted on Monday, July 17th, 2017
---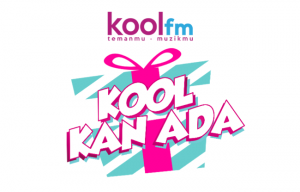 Petaling Jaya, 13 July 2017 – Starting today until 26 August 2017, Kool FM aims to provide a variety of assistance to their listeners via the "Kool Kan Ada" campaign.
Listeners can send in their requests through Kool FM's official website, stating the kind of assistance they need. The most interesting story will be selected by Kool FM to have their request granted.
This assistance can come in many forms, such as help with car payments for the month, a year's supply of disposable nappies for your child, help with paying the phone bill, laptops for students, and much more. Whatever the request is, Kool FM will do their best to make it come true. AG, Haiza, Liza, Muaz, Rea, Ikhwan and Ezaq will be at selected locations on weekends to brighten up the atmosphere and give listeners a chance to socialise with their favourite announcers. Listeners can also use the #KoolKanAda hashtag on social media during the campaign period.
Meanwhile, the Sahabat Kool team is about to go on tour from 17 July to 25 August 2017 around Klang Valley, Kelantan, Kedah, Terengganu and Pulau Pinang. They will have plenty of exclusive goodies for the fans, so stay tuned to Kool FM for their latest locations!
For more information, visit Kool FM's official website www.koolfm.com.my and their official social media pages on Youtube : Kool TV / Instagram & Twitter : @koolfmmy / Facebook : Kool FM / Whatsapp : 017-276 5656.