Be RM10,000 richer with 'Fly FM 10K Siapa Tu?!'
Posted on Monday, July 17th, 2017
---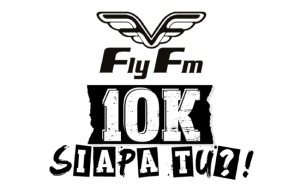 Petaling Jaya, 14th July 2017 – Fly FM is back with 'Fly FM 10K Siapa Tu?!' rewarding the listeners with RM10,000 cash! The campaign has kicked off since 10th July 2017 and will end on 25th August 2017. All the listeners need to do to bag the cash home is just be the 5th caller through and guess who are the 3 mystery celebrities voices correctly when they hear the cue to call. While the city is still picking up the details about this campaign, there was a lucky listener who walked home with RM10,000 already just on the second day of the campaign.
What makes this campaign even more enticing? The winner will also win a mystery gift on top of the RM10,000 cash during bonus hour! It's not a usual phenomenon where any radio station in Malaysia are giving away RM10,000 cash just like that. This campaign will not only bring joy and happiness to the winners, but also to those who are listening to Fly FM and be happy (or jealous) for the winners!
So you could either keep staring at your computer screen, scrolling your Facebook stalking Fly FM, yawning and daydreaming 24/7, or you could just simply grab the chance when prompted and call the hotline 03-7724 11 44! Be one of the winners! Make yourself proud, make your friends jealous or make your family happy by putting your effort in making your tomorrow a better day!
The contest is running randomly from 6am to 12 midnight. The Fly FM announcers namely Hafiz, Guibo, Maggy, Zher and Ivan are eagerly awaiting for your call and all we want for this July & August is to give away the cash! So stick around and pay attention to the 3 mystery celebrities' voices. Don't miss out the golden opportunity or you will be really sorry about it.
For more information, please visit Fly FM's digital platform including official website www.flyfm.com.my / YouTube: Fly TV / Facebook: Fly FM / Instagram and Twitter: @flyfm958.