CRM aims to escalate radio industry to new heights
Posted on Friday, May 29th, 2015
---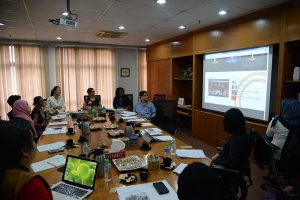 Commercial Radio Malaysia (CRM), the association representing 22 commercial radio stations, officially launched its website at its Eighteenth Annual General Meeting. The website is designed to provide updates on its member stations, activities, videos, and news articles.
"It has been an arduous journey from development to launch and I'm proud that we finally have a platform to showcase our achievements and activities," said Kudsia Kahar, CRM president.
In highlighting CRM's milestones in the past year, Kudsia noted that radio advertising contracted slightly from RM469 million in 2013 to RM461 in 2014, according to Nielsen Malaysia. It was nevertheless a respectable outcome in a generally adverse advertising environment compounded by the impact of three airline disasters and a tragic flood situation in the East Coast. Last year constituted a minor blip in what had been a robust growth period for radio advertising, which recorded a two-and-a-half fold growth over a nine-year span.
Although smaller in population size than neighbouring countries, Malaysia has a vibrant commercial radio industry, with targeted formats in various languages aimed at specific demographic segments in Peninsula Malaysia as well as Sabah and Sarawak. Various audience measurement research studies show that the majority of Malaysians tune in to commercial radio and still depend on radio as a source of information, news and entertainment. The fact that the radio industry in Malaysia is enthusiastic in evolving and reaching its audiences across multiple platforms simultaneously has played a major part in its upward reach throughout Malaysia.
"This past year has been particularly challenging as CRM members worked overtime to provide listeners with news updates during the floods in the East Coast and when the three airline disasters happened," Kudsia declared. "Public trust has to be earned, and all our members worked diligently to provide factual news as the nation grappled with these tragedies."
CRM plans to reactivate Planet Radio and Boot Camp this year with both events scheduled for the third and fourth quarters. This year's Planet Radio, themed "Radio or Not?" is a platform to educate and attract young talent from universities and colleges to join the radio industry as part of its sustainable growth initiatives. Boot Camp, a forum for media and creative industry professionals, is in the final planning stages.
CRM is also gearing up to launch the Radio Hall of Fame, an annual event to pay tribute to, acknowledge, and honour radio personalities from the past who have contributed to building the radio industry to the progressive and vibrant state that it is today.
"Previous and current generations of Malaysians, have always depended on radio, either for entertainment, information, education, awareness or self-development," said Kudsia. "It is high time that we pay tribute to those before us, who have contributed to the development of radio in Malaysia, be it the voices we grew up with, or the content creators and aggregators and loyal supporters of radio that enabled Malaysia to proudly have the dynamic commercial radio industry we are part of today. I am proud to announce that CRM and its members have agreed to the creation of The Radio Hall of Fame, and we hope to be able to induct its very first members by the end of 2015."
Although there has been some progress, Kudsia admitted that there is an urgent need for policymakers and regulators to work harder for the betterment of the industry, particularly with regards music licensing fees, censorship guidelines, content creation, and advertising guidelines.
"Radio is already ahead of the game in being a truly integrated medium," affirmed Kudsia. "Our next goal is to ensure that we compete on a level playing field with regards the multiple streaming services available in Malaysia today."
Kudsia also recognised that radio has to adopt a futuristic perspective in staying relevant and engaging listeners.
"Every station in our association has made remarkable strides in pushing the boundaries beyond being a mere entertainment vehicle. We're now aggregating our programming with a niche and targeted appeal – whether it's Top 40 music, talk shows, or programming skewed to women, religion, sports, and languages."
As an association, CRM works together to coordinate regulatory issues, promote listener engagement activities, organise outreach programmes for undergraduates, and share resources for research ratings.
The CRM office bearers – Kudsia (President), Malek Ali (Honorary Treasurer), Yusry Abu Samah (Honorary Treasurer), and Seelan Paul Thurai (Vice-President) – will continue in their respective positions until the next AGM in 2016.